Post by Lookout! Boxing on May 26, 2017 18:30:30 GMT -6
Moon Bloodgood versus Hilary Rhoda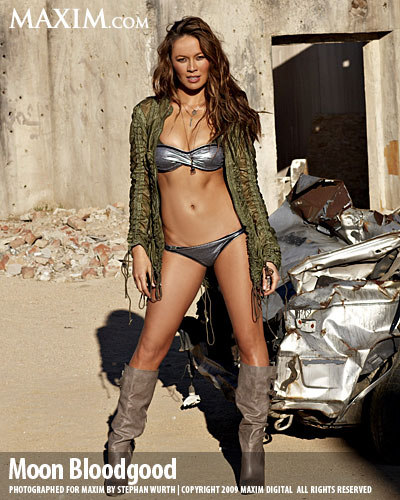 Vs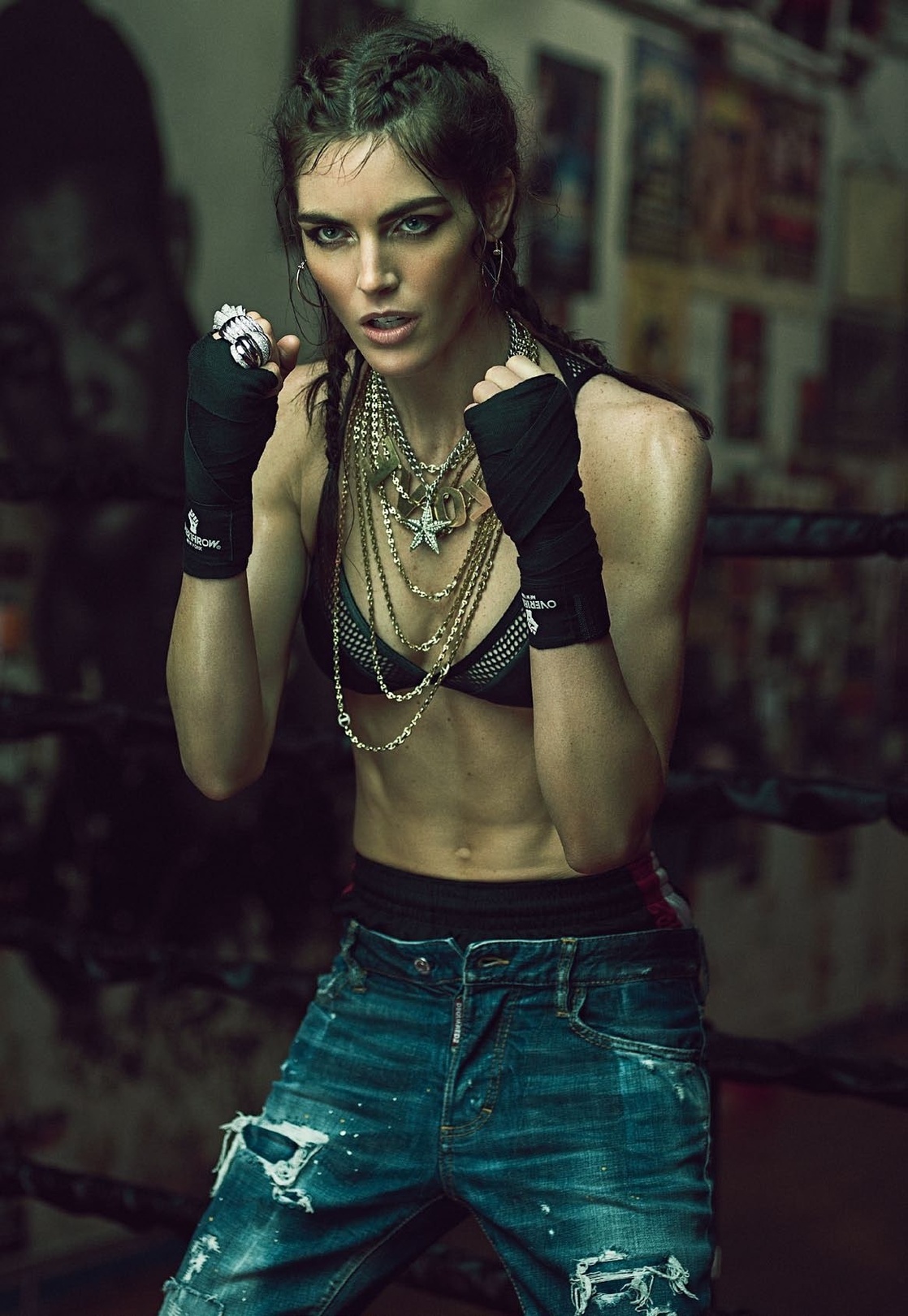 (Written by Girls Friday/Results by Lookout!)
(Bazz Fight Club vs Girls Friday)
Intro:
Two fighters looking to get back onto the win column as Moon Bloodgood
meets Hilary Rhoda tonight with a win for both possibly seeing both
get back into title contention.
The 41 year old 5'10 Moon Bloodgood comes into this fight with a
record of 15 wins, 10 by knockout and 14 losses, she's a former FCBA
welterweight champion.
While the 30 year old 5'11 Hilary holds a record of 8 wins, all by
knockout and 1 defeat to her name.
Both fighters were interviewed before the fight, with Hilary saying
"Moon is one of the foundations of the welterweight division, though
admittedly one that has been overshadowed by Amanda Righetti and her
own stablemate Regan"
Quickly adding "but I felt I was so close to being a champion like
Moon has been, I am going to rip her apart to get back to title
contention against whoever the champ is"
Moon meanwhile looks solemn as she talks to the press "I know I am
still championship quality, I've heard all the digs from pundits and
some of these young upstarts"
Angrily she says "if Hilary thinks I'm going to roll over and play
dead so she can get another title shot, she has another thing coming"
Fight night, out comes Moon first with her trainer Tanya Merryman
behind her, Moon bouncing on her toes but focused purely on the ring
as she wants this fight badly.
Starting her march to the ring, Moon is wearing a white bikini and
gloves, looking in great physical shape as always.
Climbing into the ring, she raises her right fist to the crowd as she
jogs to her corner, then shadowboxes to warm up with Tanya putting her
through her routine.
Now out comes Hilary with Lauren Berlingeri and Eva Carneiro, she
smiles as she stands atop the ramp and looks down at the ring.
As she walks to the ring, she is wearing a light blue bikini and
gloves, staring into the ring at Moon, who is staring back at her.
Climbing into the ring, Hilary bows to each side before she heads to
her corner to go through her own routine.
Both fighters are brought to the ring centre, Moon quickly getting
into the face of Hilary, who doesn't back down an inch, leading to
quite an intense staredown.
The referee asks for a touch of gloves, getting a quick swipe of
gloves after much prompting, the girls lost in their staring match.
After they return to their corners, the referee looks happy to signal
for the bell to begin 10 rounds of welterweight action.
Round 1:
Out come the fighters with a determined look etched on both of their
faces, testing each other out early on.
It's not long though till Moon is starting to show her experience over
the younger woman, finding gaps for her jab to dig through, she is
moving lightly on her feet and keeping Hilary guessing where she's
coming from.
Hilary manages to catch Moon with a left cross, stepping forwards to
cause the first fiery exchange between these two fit and powerful
women.
Moon moves backwards; making Hilary give chase and leading her to open
up so she can step to the side and land a hard straight punch to the
side of the head of the model.
Doing what she does best, Moon is fighting behind that jab, moving her
head to get out the way of Hilary's punches and making a girl who just
challenged for the title look silly.
Hilary seems to settle down, both settling into a jabbing battle as
the pace seems is to Moon's liking, not to Lauren's in Hilary's
corner, who shouts "come on Rhoda! Get your ass into gear!"
Moon calmly accepts fighting like this and parries a right straight,
before countering with a left cross and adds a right to the body of
Hilary.
As the round is coming to an end, Hilary seems to come alive, that
last combo maybe waking her up as she lands a stiff jab through the
guard of her opponent.
Then adds a right hook that turns the head of Bloodgood, but the bell
rings before she can add much more to her attack.
The fighters stare each other down before heading to their corners,
where Moon is getting praise from her coach, while Hilary is getting
told what to do to counter act her opponents strategy.
Round 2:
Both fighters meet near the ring centre with Moon starting off
strongly again, Hilary keeping her own guard tight as Moon circles her
and keeps using that jab to keep her pinned behind it.
Soon though Hilary parries a jab and steps in close, freeing her hands
to throw a jab and two cross punches to knock Moon's head around.
The older fighter covering up as Hilary shows the power that got her a
title shot, keeping tight to land two shots to the side of her
opponent.
That's till she takes a stiff straight onto her nose, Moon moving to
the side of Hilary as she nows that she can't get stuck in the firing
line.
Both fighters trade single punches as they circle each other, Hilary
ducks a left and just misses with her own right to the body, Moon
showing her body as she steps out the way.
Hilary does land a left overhand punch to put Moon onto the back foot,
she keeps pressing forwards to land another two to the body.
Again though Moon slips out the way of a big right punch, missing by
inches and comes back with a jab to the nose and a right hook to put
Hilary onto her heels.
Now it's Moon pressing Hilary backwards as the round sees both
fighters go back and forth, both desperate to win to move back up the
rankings.
Not long left in the round, Hilary manages to get back at Moon leading
to both fighters squaring up and pounding each other across their
faces.
Hilary finishing stronger as she starts knocking Moon back several
steps with pounding punches that thud into the face of her opponent.
The bell rings to end the round, Hilary looking slightly more relieved
but there's still a tenseness to her as Lauren nods at her and begins
to clean her face.
Moon not looking too worried, candidly talking to Tanya about the
fight, getting her own face cleaned by her coach, she bangs her gloves
together ready to get back out there.
Round 3:
Moon coming out quickly with her jab raining out at Hilary, who is
stuck behind her guard early and looking frustrated.
Hilary trying to get out of the situation, but gets caught with a
right hook that makes her stumble to the side and quickly has to cover
up as Moon charges in.
Digging away to the body of Hilary, she is starting to work her her
opponent onto the ropes, Hilary groaning with each shot that hits and
ends up clinching up.
The fighters grappling on the ropes, but it's Moon who is looking the
stronger, scrubbing Hilary's back onto the ropes.
Separated by the referee, Hilary gets into space, flicking her jab
into the guard of Moon, more to create space and give herself time to
think things through.
Moon parries a left and lands a left cross to put Hilary back onto her
heels, the model covering up as she is under pressure from a barrage
of punches.
Back to the ropes goes Hilary as Moon looks dominant, going back to
the body of Rhoda, trying to wear her out and put her down.
Hilary though manages to land a right hook that turns Moon's head
around, then starts to fight her way off the ropes, not caring that a
small trickle of blood is flowing from her nostrils as she tries to
get something out this round.
The bell rings soon enough with Moon still looking happy, knowing that
she kicked Hilary's ass for most of that round with only a small
glimmer of hope showing it's self for her opponent.
Hilary looking down at the canvas, Lauren having to shout at her
"don't you f***ing dare give up on me! I know losing to Hannah hurt
you but this is your chance to show the world that you are strong,
mentally as well as physically!"
In reply Hilary nods and has a faint smile on her face, as if a thank
you to Lauren for the pep talk.
Round 4:
Moon starts off well with her jab, though she quickly has to move as
Hilary tries to charge up the centre to land something.
An early warning for Moon that Hilary isn't going to stay stuck behind
her guard all night, though Moon controls the early action with her
movement still looking the difference.
But a well timed right from Hilary seems to open things up for her
now, as she finally gets to the inside to land two digging shots to
the abs of her opponent.
Moon manages to get a straight punch onto the bloody nose of Hilary to
stop her charge and begins to knock her back now.
Possibly looking to end things now, Moon manages to land two straight
punches into the face of Hilary, then adds a right to the ribs of her
opponent.
Back goes Hilary, who covers up to defend herself and is in retreat
mode, moving backwards quickly with Moon the one giving chase.
As Moon goes for a jab to measure up Hilary for a bigger punch, it
gets parried and Hilary steps to the inside to land a vicious looking
uppercut that stuns Bloodgood!
All her work is being undone and Hilary pounds away at Moon's face,
Moon being knocked back towards the ropes, the bell rings to end the
round with Moon shaking her head after being rocked.
The girls heading to their corners with both their faces looking
puffy, blood running more freely from Hilary's nose as Eva works on
stopping the bleeding.
Round 5:
Out come the girls towards the ring centre, but as the first exchange
shows between the fighters; it's Hilary who is on the ascendency.
She ducks under a straight punch and lands an overhand right to wobble
Moon, who looks hurt and is under fire once again as Hilary pounds
away at her head.
Moon covering up as Hilary works her guard, trying to break it open to
finish off the actress, Bloodgood pressed towards a corner.
Clinching up, the girls can be heard snarling at each other as they
try to shove each other back, Moon trying to show she's still in this
fight.
But as they are separated, Moon misses a left hook and gets caught
with a right hook that lands on her eye, Moon yelping in agony as it
is swelling.
Hilary keeps pounding her right fist into that eye to knock Moon back
onto the ropes, a cut opens up on the top of Moons eye to make things
worse.
Shoving Hilary back to create space, Moon looking like a wounded
animal as she keeps her left tight to her eye, trying to protect it,
almost fighting straight forward instead of a traditional stance to
give herself some form of chance of fighting back.
But she quickly gets smacked onto her nose with a straight punch to
back her up, Moon struggling to defend herself as she eats another
straight that knocks her head back.
The round ends with Hilary staring hard at Moon, seeing the damage
she's dealt her before turning on her heel and walking back to her
corner.
Moon slowly returning to her corner, Tanya looking worried for her
fighter, asking her if she can continue, Moon nodding to Tanya that
she wants to go on, quickly Tanya works to try and get her ready to
fight on.
Round 6:
Moon does come out, but is quickly in trouble as she can't see out her
left eye and Hilary is looking to put her out her misery.
Hilary landing a right hook to knock Moon onto the ropes, she's stuck
leaning on the ropes and before the referee can check on Moon, she
gets hit with an uppercut that makes her slide down the ropes to the
canvas.
The referee kneels down to check out Moon, he quickly waves the fight
off as Moon is knocked out!
Winner: Hilary Rhoda KO Round 6
After:
The doctor rushes in to check on Moon, Tanya quickly climbs into the
ring as she wants to see that she's going to be OK.
Hilary heads off to her corner and pumps fists with Lauren, thanking
her for waking her up from feeling sorry for herself after her defeat,
the Girls Friday group looking a lot happier then there Bazz
counterparts tonight.
Soon Moon is awoken as Tanya tells her "I'm sorry, I should have
stopped the fight before you got hurt" with Moon shaking her head as
she feels like crying if her eye didn't hurt as much, tears flowing
from her good eye.
Being helped up by Tanya and the doctor, Moon is helped to her stool
to get cleaned up, spots of blood on the canvas shows where Moon was
laying as her face looks a mess.
Soon she's helped out the ring after being fixed up enough that she
looks presentable, Tanya helping her out the ring as Hilary watching
her.
Hilary raises her fists to the crowd, shouting to the crowd "I'm going
to get that title" smiling as she hears a cheer to that.
The girls leaving the ring together, smiling but inside they know
Hilary struggled to win, knowing next time she may not get a chance to
come back.
Though as Hilary tells the press in the back "I showed again that I
can fight adversity and come out on top" as her face shows the scars
of war.
She adds "Moon is a great fighter and I have thank her for being a
tough learning curve, but now I hear that my management has ideas of
my next opponent"
Smiling as she waves at the cameras filming her "so I want to say hi
to Paula Patton, me and you on PPV will be fun but you are the next
name on the road to my title hunt" before she leaves to head off to
the locker room.
Two big top 10 fighters in a showdown has the pundits mouth watering
as the race to the title is so intense in the welterweight division.